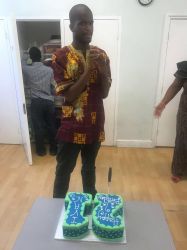 Ivan Jr, on the ocassion. 
of his 21st Birthday, 2nd August 2018.
You must install Adobe Flash to view this content.
Home
Welcome to Ivan Jr's. Website - We wish you God's peace and blessings every day of your life.
Ivan Jr. is  21. 
"For with God nothing will be impossible " Luke 1:37
It is trying times for individuals and families when they get the news,finding out that they or their child has Dandy-Walker. Dandy Walker Alliance is a good place to start in terms of information and support If you are looking for support, need advice, or just need someone to talk to.
Reach out to Dandy-Walker Alliance.

If you are visiting for the first time or have been here before, welcome and may the almighty God touch your heart and soul today. We pray that God's will be done in your life this year of our lord. God's word (1 John 3:22).
Love conquers all, over the years we have seen improvements in Ivan's well-being and we do strongly BELIEVE it is his time to RISE. We are on a love quest to get our little boy back.
Ivan Ibuno jr. our young lion; We BELIEVE will ROAR like he was created by the Lord God almighty to. Jesus said and we BELIEVE "Behold, I give unto you power to tread on serpents and scorpions, and over all the power of the enemy: and nothing shall by any means hurt you"
Ivan Ibuno jr. needs your prayers, we have placed and released him in the hands of the most high God, creator of Haven and Earth. 
Revelations come when you "DO" for LOVE. We believe Ivan Jr. is as God's word recorded in the book of Psalm 127:3 "Lo, children are an heritage of the LORD: and the fruit of the womb is his reward" 
Stay with us and experience God's miracle.
God Bless You.

You must install Adobe Flash to view this content.
God's word
(Psalm 57:5) "Be thou exalted, O God, above the heavens; let thy glory be above all the earth"
(Matthew 16:18-19) "And I say also unto thee, That thou art Peter, and upon this rock I will build my Church; and the gates of hell shall not prevail against it. And I will give unto thee the keys of the kingdom of heaven: and whatsoever thou shalt bind on earth shall be bound in heaven: and whatever thou shalt loose on earth shall be loosed in heaven"